Necklace Glass net Artemis is the jewel with four Murano glass beads with special appearance in black and coral, in effect visual magic.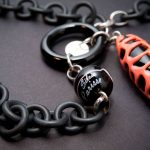 "The center of the worship of Artemis, goddess of fishing and shipping, was in the island of Crete, where he was worshiped as the sweet girl inventor of fishing nets
The glass beads they have always inspired stories and legends.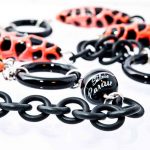 I used the black rubber chain, simple, light, essential, to give lightness and dynamism to the jewel.
The search for detail is essential to create jewelry original and refined at the same time.
The locking clip is very practical to use and also allows you to vary the length of the necklace.
https://www.flickr.com/photos/checchettocristina/
http://www.leggendedivetro.com/en/product/artemide/