Lemon cornflower empathy is the glass beads necklace Murano, blown and lampworking.
A chromatic impact that I define a metaphor for the early summer nature, strong, lush and exuberant.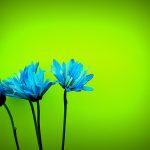 The green teeming with life, the blue cornflower that reminds me of the sky color on certain days of early summer and the yellow freshlemon and juicy, are a triumph of sensations.
A legend tells that Cyanus was a devotee of the goddess Flora and loved so much the cornflowers; one morning he was found dead in a cornfield and had beside him a garland composed by his own favorite flowers.

Learning of the situation, the Goddess Flora gave the order that these bring flowers in gratitude named Cyanus.